CANE ENABLED
An Art Teacher for the Blind and Low-Vision Just Wants To Change… Everything.
Originally published March 1, 2020 in CAPTIVATING! Magazine
A device in the works will bring to life the much sought-after tactile display offering both a full-page of Braille and touchable multi-level, full-color illustrations. The TouchPad Pro (TouchPadPro.org) will change the entire landscape of assistive technology for the blind and low-vision community. It may take time and a great deal of funding for research and development, but according to Daniel Lubiner and Boston Engineering, it is now a matter of when not if.
The TouchPad Pro will offer something that only six months ago seemed inconceivable.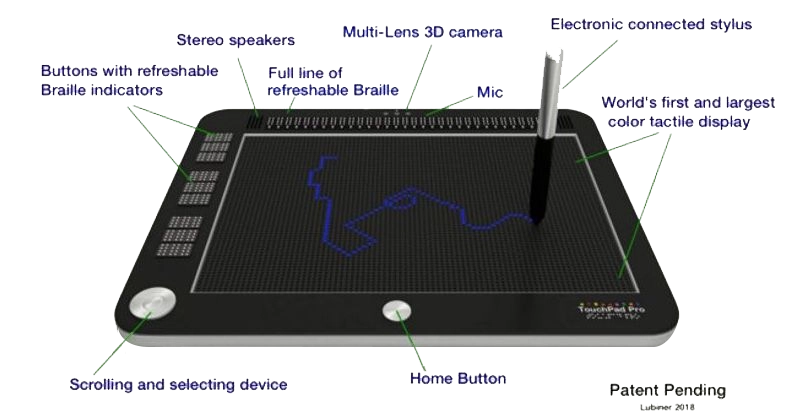 Provide the world's largest visual and tactile display (with over 2400 moving pins!)
Be portable
Offer a user-friendly and accessible interface, recreating the recognizable platform of Apple or Android.
To be as affordable as possible with increasing affordability over time.
Increase the ability to navigate through 3D maps displaying labeled buildings and streets; a map in motion will show location and movement when linked to GPS
Allow its users to view/feel the contours, and zoom in on full-color illustrations, photographs, and graphs.
Provide a specialized stylus to instantly create, touch, and save tactile drawings.
Have a built-in port for the stylus for easy charging and storage.
Feature a front-facing and a rear-facing 3D camera with a myriad of possibilities, including photographs and selfies that "rise from the surface."
Help lower the unacceptable unemployment numbers of roughly 75% by providing more accessibility to a world increasingly dependant on technology.
Daniel Lubiner, inventor of the TouchPad Pro, is an Art Teacher for students ages five through 21 who are blind or have low vision. He is also a father, an artist, and a drama enthusiast. For over ten years, Daniel has taught at the New York Institute for Special Education in the Bronx. At nearly 190 years of service, NYISE (nyise.org) is one of the oldest schools for the blind in the United States. On over 17 acres of pristinely maintained grounds, NYISE is home to three dormitories, three classroom buildings, a vast library, an indoor pool, a bowling alley, an air-conditioned gym, an accessible playground, and a modern auditorium.
Accessibility description of the Video:
The video is a fast-moving visual tour of the TouchPad Pro, its features and some of the technology currently available to demonstrate feasibility. The video was created by working closely with a talented 3-D artist. Although the video is geared to people with vision or with some vision, everything in the video regarding the TouchPad Pro is also described on this website. The video also demonstrates current advances in this area in The Graphiti, by APH and Orbit described at this link, http://www.orbitresearch.com/product/tactile-products/graphiti/ and a haptic display developed be EPFL described here: https://lmts.epfl.ch/cms/site/lmts/lang/en/haptics_EM.
The fact that an art teacher conceived the TouchPad Pro would explain its focus on the making and the experiencing of art. While teaching art to students with many different levels of sight loss, Daniel says that he discovered something: there is little in the field of assistive technology other than electronic magnifiers to meet the needs of people with limited vision. With this in mind, he began to make sketches. The goal was to create a tactile experience that would allow those with low vision to experience drawing in a multi-sensory way. From there, the ideas kept expanding.
Daniel explains, "My students always like to touch what they are looking at, no matter where they fall on the spectrum of being 'legally blind.' The TouchPad Pro was conceived to benefit this entire spectrum, from those who are blind to those who can see relatively well with corrective lenses. For example, when drawing, the user can use an electronically-connected stylus in one hand and simultaneously feel the lines and shapes appear with the other."
This is an exciting time for the newly formed TouchPad Pro Assistive Technology LLC. A renowned company, Boston Engineering (boston-engineering.com), is now dedicated to the success of the project. This is an engineering company that has designed medical devices and underwater drones; it is currently working on military exoskeletons for the Department of Defense. Boston Engineering has demonstrated its commitment to the project through the many hours it has invested in research, the study of available technology, and meetings with engineering and programming specialists.
The TouchPad Pro has sparked the interest of LVStek.com and its Low Vision Shop, a cutting-edge company in the area of assistive technology for the blind and low vision community. "The only shop of its kind in the world, we have created a place where people can explore life-changing vision aids, curated by a team of specialists with 45 years of experience in the low vision field."
Daniel sums up his thoughts: "Working with these diverse and wonderful students has given me pause to reconsider all that I think I know about art, and what many of us take for granted. Helping my students create a tactile version of Starry Night, for example, inspired me to create the TouchPad Pro. The way they overcome obstacles in everyday life motivated me to expand on the invention. It is my hope someday to provide a TouchPad Pro to each of my students and someday to those who can't afford such devices."
Connecting With Daniel: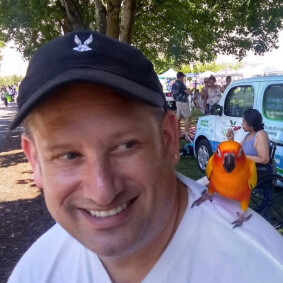 Daniel & Trixie
Daniel Lubiner lives in Westchester, NY. with his wife, Moira, a high school English Teacher, and step-daughter, Ella, a Community Outreach Coordinator at a non-profit. He has two sons. Max who is 21 has helped assist his father greatly with TPPAT LLC and is training to be a pilot. Harry, 18, is a rock-n-roll guitarist, artist, and honor roll student at SUNY New Paltz. Daniel has been into the arts since he was a child. Drama, music, and art have always played a big part in his life. He began teaching special education 23 years ago. He hopes to touch many people with the gifts God has given him and remain a good father and husband.
Image Descriptions:
The header image of the B3 Magazine cover has a gray/white marbled background. The date & edition number are in the upper right corner in black ink. The TouchPad Pro photo is aligned on the right margin with the background appearing on the top, bottom and left margin. "B3" is in large teal text and a teal-colored circle on the lower left corner of the photo has yellow text that says "TouchPad Pro." There is 3-lines of teal text on the photo that reads "Assistive Technology Reimagined." The tablet resembles a large iPad turned on its side horizontally. The majority of the surface is made up of over 2000 pins that raise and lower to different heights to form tactile images, multiple lines of braille, or a touch-sensitive Braille keyboard. It is called a tactile and visual display because the pins contain characteristics that make them light up in various colors. Pictured drawing a bright blue line on the display is an electronically connected stylus, resembling a fat pen. Buttons on the stylus allow it to change instantly from drawing to erasing and may have other functions like shape-making. Above the display is a full line of refreshable braille cells like that of a BrailleNote. To either side of the line of braille cells are stereo speakers. Above the tactile display and line of braille, at 12 o'clock, is a front-facing multi-Lens 3D camera and microphone. At 6 o'clock, below the display is a home button and power button. In the left-hand corner is a scrolling and selecting device. To the left side of the display are nine buttons with refreshable Braille indicators that can serve different functions.
Image with specs: Along the left edge of the TouchPad Pro are 2 USB ports, a mini-USB port, and a headphone jack. On the top edge is a stylus storage place, and a power Jack. On the right edge, there are three rocking buttons, including a brightness adjustment, a contrast adjustment, a saturation adjustment so people with visual impairments can adjust the screen to best suit their needs. Centered on the back of the device are an LED Flash, a front-facing multi-lens 3D camera, and a microphone. The TouchPad Pro will be able to take stills or moving images and change them into tactile images on the screen. Please feel free to contact us with questions or suggestions! dlubiner@touchpadpro.org
Biography Photo: Pictured here is a photograph of Daniel smiling with a small colorful parrot named Trixie on his shoulder. They are a local park with many people around.